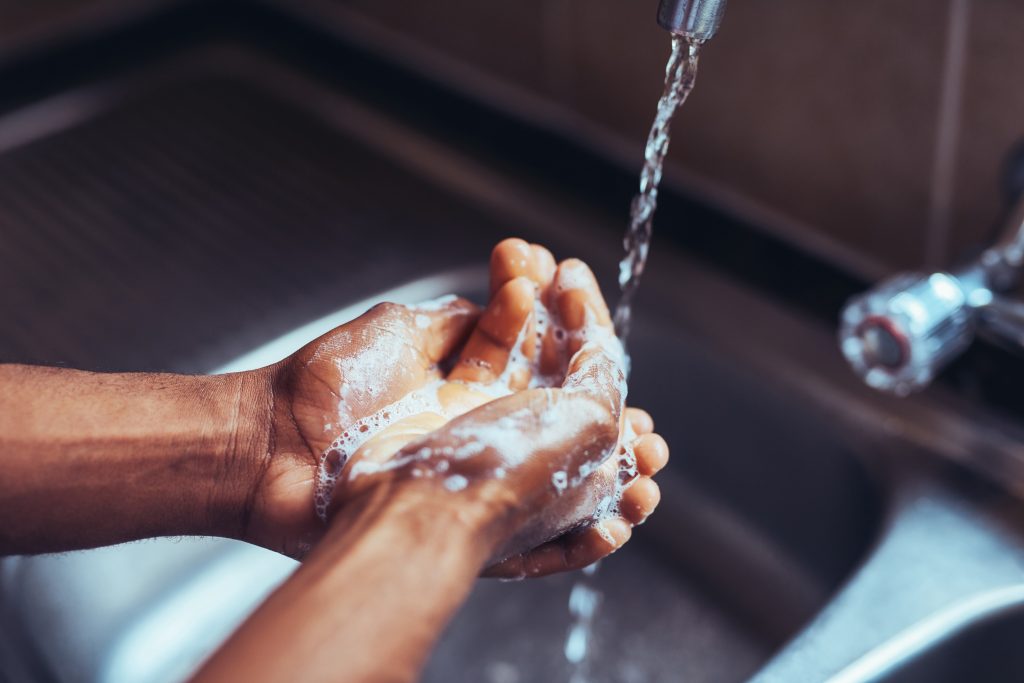 Over and over again during this Coronavirus season, people are asked to wash their hands thoroughly and clean every part of it regularly. As I pondered about this basic request broadcasted in every media channel, with appeals from heads of states around the world, I thought," What a simple piece of advice for something as deadly as this virus!" As I reflected upon it, I felt the Holy Spirit whisper "a call to purify" to me.
So, I looked up God's Word to delve deeper into this.
Exodus 30:17-21 says this:
The Lord said to Moses, "You shall also make a basin of bronze, with its stand of bronze, for washing. You shall put it between the tent of meeting and the altar, and you shall put water in it, with which Aaron and his sons shall wash their hands and their feet. When they go into the tent of meeting, or when they come near the altar to minister, to burn a food offering to the Lord, they shall wash with water, so that they may not die. They shall wash their hands and their feet, so that they may not die. It shall be a statute forever to them, even to him and to his offspring throughout their generations."
Washing of hands was a ritual carried out by ancient Jews as a sign of purification. It is still carried out by the Jews of today.
So why is this washing done?
It is carried out to be made clean
It is symbolic of removing our sinful way of life
It is a sign of purification
It is a sign of acknowledging that we are impure and cannot approach a Holy God in this manner
Here are some scriptures that mention washing of hands:
Psalm 26:6 says
I wash my hands in innocence and go around your altar, O Lord,
Isaiah 1:16 says
Wash yourselves; make yourselves clean; remove the evil of your deeds from before my eyes; cease to do evil,
James 4:8 says this
Draw near to God, and he will draw near to you. Cleanse your hands, you sinners, and purify your hearts, you double-minded.
The other instructions we are given in this Coronavirus season is to wash our hands long enough (at least 20 seconds) and to not miss any part of our hands (palm, nails, thumb, between fingers). This is like a thorough, deep check! I believe God wants every area-the good, the bad and the ugly exposed and cleansed by His precious blood. This does not come by a quick rinse. It involves a long, thorough ritual of washing. It involves deep introspection. It involves soul searching. It involves weeping before God. It involves breaking our self-reliant, proud hearts. It involves acknowledging our nothingness. it involves allowing God to work in the "secret areas" of our lives that we have kept to ourselves that no one else knows about.
I believe that God is drawing us to Himself in this season. Of giving up on having our way. Of giving up on relying on material things- money, possessions, jobs, bank balance. Of returning to Him.
I believe this is a call to the church first. For us to turn from our self-reliant way of doing things. It is a call to return to Jesus. It is a wake-up call to the church.
This season is also a call to those in the world: many doctors from rich Northern Italy which boats of the best of medical facilities have admitted that they are powerless. Even the best of human wisdom, wealth, knowledge and skill have been no match to this invisible "virus". Only God can do the impossible and bring a change to this situation. We are created to be dependent on God. Not on our own strength, abilities and wisdom.
The Bible tells us in Matthew 6:33 (amplified version),
But first and most importantly seek (aim at, strive after) His kingdom and His righteousness [His way of doing and being right—the attitude and character of God], AND all these things will be given to you also.
God provides our every need as we stay focused on Him! The Bible promises that the righteous are never forsaken, their children are never found begging bread. But we have misplaced our dependence on God by placing our dependence on our wealth, our savings, our bank balance, our job titles, our education, our reputation in the society, our privileged statuses. These are idols we have raised in our lives. That have taken our time. That have derailed us from our purpose in life. They have shifted our focus from Jesus.
As believers, we are called to live our lives with purpose by seeking Christ as our ultimate goal: seeking to do God's will, having the attitude of Christ and having His character.
I know this is a very hard thing to acknowledge for us, but I pray that God will break through our stony hearts that have been hardened over the years by focusing on the wrong things and prioritizing wrong things.
Joel 2:12-13 says,
"Even now," says the Lord,
"Turn and come to Me with ALL your heart [in genuine repentance],
With fasting and weeping and mourning [until every barrier is removed and the broken fellowship is restored];
Rip your heart to pieces [in sorrow and contrition] and not your garments."
Now return [in repentance] to the Lord your God,
For He is gracious and compassionate,
Slow to anger, abounding in lovingkindness [faithful to His covenant with His people];
And He relents [His sentence of] evil [when His people genuinely repent].
If you hear God calling you to return to Him today, I pray you will not delay. I want to remind you in love not to ignore the call of God upon your life.
Prayer
Heavenly Father You are calling out to me today and I do not want to ignore Your voice. I know You have a plan for me that is good and guarantees a secure future for me (as Your Word says in Jeremiah 29:11) I want this crisis to be a turning point in my life. From this moment, I ask You to take center stage in my life. Show me what I need to do, speak to me as I read Your Word, bring a community of people into my life that will strengthen my faith. Transform my life. Change everything. Make my life to be everything You have purposed for me. I acknowledge today that Your ways, plans and thoughts for me are FAR HIGHER than what I can envision for myself with my own limited, human reasoning. Purify me, wash me clean and draw me to You. In Jesus' Name, amen.